Series

Featured Article

Maltruant is the mastermind behind the Time War. Thanks to his chronopathic powers, Maltruant can speed up, slow down, travel through, and even freeze time.
Helping Out
If you are new to wikis, check out the tutorial, feel free to test any edits in the Sandbox, and read the policies and guidelines.
The Community Portal is a great place to learn about the wiki. It contains information for newcomers and regular members alike.
Participating

To write a new article, click the button below and it will take you to the page creation portal.
Do not make any fan fiction articles.
Create New Article

To help fix articles, click the button below and it will take you to a random article.
Do not add false information.

Welcome to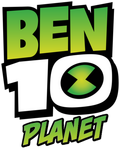 The wiki about the Ben 10 franchise that anyone can edit!
We currently have 3,694 articles relating to the show and its licensed media. Fan fiction is not allowed here.
If you wish to create or edit Fan-made material or episodes, please visit

Ad blocker interference detected!
Wikia is a free-to-use site that makes money from advertising. We have a modified experience for viewers using ad blockers

Wikia is not accessible if you've made further modifications. Remove the custom ad blocker rule(s) and the page will load as expected.