There are many Ben 10 apps which are downloadable via the app store for iPhones, iPod Touches, iPads and android devices.
Ben 10 Mouth-Off
The Ben 10 Mouth-off app is where you see an Omnitrix, you turn it until you see the hologram/silhouette of an alien you like. You tap it, and then the mouth of the alien appears. Hold the device to your mouth, and it looks like you have the alien's mouth. Using the iPhone/iPad/iPod technology when noise is made into the backside of the Apple device, the mouth moves accordingly. Includes Ben, Stinkfly, Grey Matter, Blitzwolfer, Perk Upchuck, Wildmutt, Cannonbolt, Four Arms and Diamondhead. The Lite version includes Upchuck only.
Ben 10: Storybook
There is a Ben 10: Ultimate Alien storybook app for download.
Cooper, Ben, Gwen and Kevin go to a convention, and a bunch of evil aliens appear.
Ben 10 Ultimate Alien: Xenodrome
Ben 10 Ultimate Alien: Xenodrome is a game based on Ben 10: Ultimate Alien series. The game includes a story mode and an arcade mode. Using your iPad/iPhone/iPod touch/Android Tablet, you can play as Rath, Water Hazard, AmpFibian, NRG, Armodrillo, Ultimate Swampfire, Ultimate Humungousaur, Ultimate Big Chill and Ultimate Cannonbolt. The villains in the game are Charmcaster, the Forever Knights, Aggrebots, Ultimate Aggregor, Kevin Levin (Ultimate Kevin) and also Charmcaster's Stone Creatures. The Andromeda Aliens are also enemies in the game (excluding Galapagus).
Screenshots
Ben 10 Slammers
Ben 10 Slammers is a card game based on each character in
Ben 10: Omniverse
series. The game includes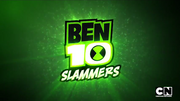 Campaign Mode, Slammer Mode and Multiplayer Mode. Using Your iPhone/iPad,You can play three slammers in one round (Default:
Bloxx
,
Feedback
and
Heatblast
). After you buy slammers using your cube, you'll get
Ball Weevil
,
Spidermonkey
,
Stinkfly
,
Wildvine
,
Buglizard
,
Crabdozer
,
Wildmutt
,
NRG
,
Kickin Hawk
,
Khyber
,
Grey Matter
,
Slamworm
,
Shocksquatch
,
Mucilator
,
Dr. Psychobos
,
Four Arms
,
Echo Echo
,
Crashhopper
,
Billy Billions
,
Psyphon
,
Gravattack
,
Diamondhead
,
Cannonbolt
,
Astrodactyl
,
Zombozo
,
Humungousaur
,
XLR8
and many more.
Trivia
Every Friday 4pm, Ben 10: Slammer will release a slammer for buy/fight.