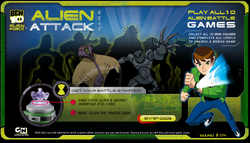 Ben 10: Alien Attack is a game that can be played by obtaining codes found in the Omnitrix X10 alien figures.
In each level there is a boss you would have to defeat, the boss is kept a secret until you come to the Boss Stage where it is revealed who you are up against.
The objective of this game is to pass through all the minions of the boss, and get to the Boss Stage of the game. There are 10 minions and enemies to pass through and win all 10 levels to unlock the Nanomech Stage where you battle the alien hive queen.
After you win the Nanomech battle you can get a form to get your very own Translucent Ben Tennyson figure by getting three UPC codes in the packages of Ben 10: Alien Force.
Codes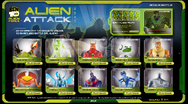 Bosses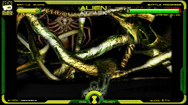 Ad blocker interference detected!
Wikia is a free-to-use site that makes money from advertising. We have a modified experience for viewers using ad blockers

Wikia is not accessible if you've made further modifications. Remove the custom ad blocker rule(s) and the page will load as expected.